Blue Mountains Steiner School College of Teachers has partnered with Edstart, an online fee management system, designed to improve our school fee payment options. From Term 1 2024, all school fees including annual and periodic payments will be managed by Edstart. Please ensure you set up your Edstart account by 30 November 2023.
For further information please watch this video.
You can contact Edstart on 1300 139 445 or email contact@edstart.com.au if you have any queries or require assistance with setting up your account.
Deadline to set up your Edstart account is 30 November 2023.
Visit edstart.com.au/bluemountainssteiner to set up and create your account today.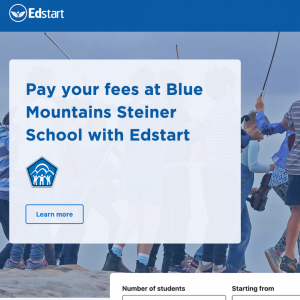 What is Edstart?
Edstart is a financial services company that provides flexible payment plans for the education sector.
Edstart Plus originated from Sydney's Lorien Novalis Steiner School. It emerged from the school's commitment to simplify their fee management procedures and their desire to provide greater flexibility in fee payment options for their families.
What is happening?
For 2024 school fees, families will need to pay Edstart instead of making direct payments to the school
We are asking families to set up an Edstart Account for 2024 school fees by 30 November 2023
Families also have the option to start using Edstart from now.
What are the benefits?
1. Flexibility:
Edstart provides families with more options and greater flexibility when it comes to paying school fees. For example, at no additional cost:
Payments can be spread over 12 months
Payments can be made weekly, fortnightly, monthly, termly, or annually
Payment holidays can be accommodated/arranged
Changes to the payment date can be made.
2. Debt Management:
Edstart will ensure the school is paid in a timely fashion, allowing for more reliable budget planning.
If you need further information, please feel comfortable to reach out.